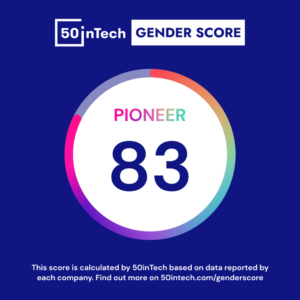 People are at the heart of success for Recycleye, so how we recruit and retain the best is a key responsibility.
In her latest blog, our People Manager, Anastasia Levy explains what our 50inTech score means and why it's important for both Recycleye and our customers.
50inTech is an organization working for change.  The team believes that by helping women to make a career in tech, a fairer society will be created, and it is working with leading European tech companies to achieve 50% representation of women in tech by 2050 (that's compared to the one in two women who currently permanently leave tech after 8 years)
To measure the level of inclusiveness of an organization, 50inTech created the Gender Score, which measures levels of gender inclusion.  Today, I am so excited to announce that Recycleye has been awarded a score of 83 out of 100, which is just fantastic!
Using the old adage that you can't manage what you can't measure, this score is a tangible way for companies to understand where they are on their inclusiveness journey and how they can improve.  Our high score shows that we have many policies and benefits that are likely to attract and retain talented women, including our truly flexible approach to working hours, unlimited holiday and family-friendly equal maternity and paternity cover.  Some of the highlights of our 50inTech profile are that 23% of our team is female, 45% of senior roles are filled by women and 9% of our women are in engineering roles.
I spoke to our CTO and Co-Founder Peter Hedley about the score attained by Recycleye, and he said "We are very proud to have achieved the score we have with 50inTech.  For us, it's not only about doing the right thing by making sure we have an inclusive culture, but it makes business sense as it ensures we have diverse teams.  We need people with the right capabilities in software and ML, which can be hard to find, but we also know from our own experience that diverse teams perform better.  So we will keep working to improve our gender balance, and based on our score, we know we are on the right path."
"23% of our team is female, 45% of senior roles are filled by women and 9% of our women are in engineering roles."
For me, what's important is how we make our organization an inclusive place for women.  Some of the ways we do this are remote working and unlimited holidays, which are particularly attractive to women.  We are proud of this, but we have not stopped there – this year, we launched a policy of giving equal maternity and paternity leave, and we intend to retain remote and flexible working even though many companies are now returning to the office.
It's not about any type of positive discrimination to attract only women to our organization, but more about making sure we recruit the best people, casting the net wide enough to ensure we get female candidates for all our tech role vacancies and then supporting them when they join us.
And we think we are getting it right, because apart from this great score from 50inTech, this year we saw two of our colleagues recognized by Letsrecycle with 2 team members awarded 35 under 35 status (who both happen to be women, by the way!)  This is an annual competition to identify the rising stars in the waste management industry, who have shown professional excellence, promoted innovation or contributed to the wider community.
If you're looking for a new challenge in a technology role, and want to join an organization that values diversity, check out our current vacancies.  We'd love to hear from you.