At the start of June, the global environmental technology sector gathered at Messe München to celebrate and share insights on the progression in the industry at IFAT 2022. The trade fair's return after COVID-19 welcomed almost 3,000 exhibitors and 119,000 visitors, with 50% hailing from overseas, and the Recycleye team were delighted to be a part of the action.
After successfully installing 17 Recycleye Vision and Robotics units across England, Northern Ireland and France, and announcing our participation in Veolia Germany's U-Start programme merely days before the fair's opening, we spent IFAT 2022 sharing the valuable results achieved by MRFs adopting our sorting technology.
The show organisers have retrospectively dubbed this year's key topic "using and reusing resources efficiently", reflecting the increasing uptake of automating technologies in material recovery. Whilst AI-powered robotic pickers can sort to higher efficiencies and purities than manual pickers, their ability to operate 24/7 supports a strong ROI suggesting that investment in future-proofing solutions is an efficient allocation of financial resource in itself.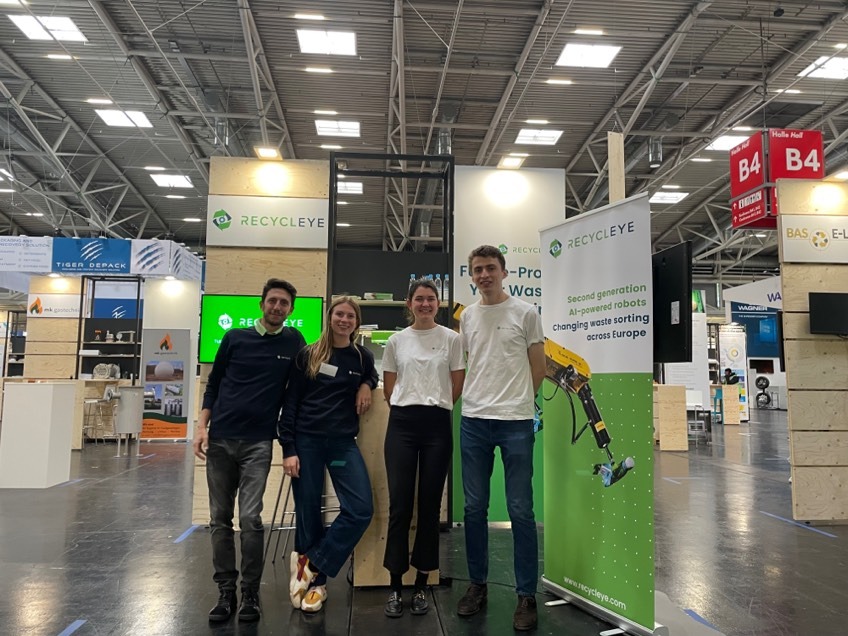 In the many conversations shared on the Recycleye stand over the busy week, the ever-growing shift towards automation emerged as a strong theme, and some points became very clear:
1. The global waste management industry is ready for robots.
The USA material recovery landscape is accelerating an already well-established robotic sorting market, with one large USA waste management company's technical lead telling us "I have 50 robots and want to buy another 150 next year", yet IFAT 2022 also seemed to herald a transition towards automated QC for the European market.
With fresh case studies from a host of MRFs who are reaping increased outputs and value following robotic installations, there was a tangible buzz in the trade hall's atmosphere surrounding the AI-powered pickers. Alongside many Italian visitors taking action to keep up with the successful adoption of automation elsewhere, 2 large Dutch waste management companies announced to us that "now has become a good time to start talking about robots" and shared a fear of lagging behind their competition.
Plant managers across Europe who have employed Recycleye Vision and Robotics have already reported less than 1% contamination in some cases and an increase by 12% in output of target materials. This established the increased profit potential delivered from their investment, so it's exciting to see the industry's recognition of these results and readiness to similarly future-proof their own facilities.
2. The 6-axis robot is the right choice for picking DMR.
It was evident from several discussions that some waste management players have been disillusioned by robotics, having tested large and heavy robots ill-adapted to their waste stream. As we presented the accomplishments of Recycleye Robotics, the only 6-axis robot on the market and 75% lighter than comparable pickers, many visitors displayed admiration for the benefits of the 6-axis, with Italian companies particularly appreciating the light structure of the unit.
This confirmation of the suitability of Recycleye Robotics, which has been purpose-built for picking DMR in MRFs, reflected a pattern in the challenges facing by sorting facilities today and attested to the bespoke refinements that have been made to our gripping and pneumatics system.
3. Germany can learn the benefits of AI-driven waste picking robots from the rest of Europe.
After witnessing how robotics are delivering value to their European neighbours on their home stage, German waste management companies were compelled to look beyond their existing automation technologies to consider AI. With unique capabilities such as food-grade sorting and compositional dashboards, the Recycleye team are excited to deploy this technology with Veolia Germany through their U-Start programme.
Busy following up from conversations at IFAT and already looking forward to the 2024 edition, the Recycleye team are delighted to invite waste management companies interested in automation to meet us at RWM/LetsRecycle Live this September. Book to meet us on the stand here.