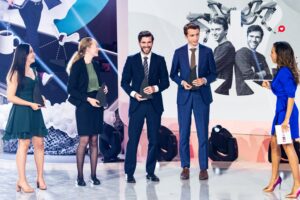 The European Patent Office (EPO) has honoured our founders, CEO Victor Dewulf and CTO Peter Hedley in Munich with joint first place in the inaugural Young Inventors prize.
They were recognised for their invention and development of Recycleye Robotics and Recycleye Vision, our intelligent recognition and sorting system that enables waste management facilities to quickly and accurately separate rubbish, ensuring that more is recycled.
"Victor Dewulf and Peter Hedley are using cutting-edge AI technology to tackle a substantial problem – how to drastically reduce our waste," says António Campinos, President of the European Patent Office. "By increasing the likelihood that waste will be recycled, their innovation contributes to a cleaner world for us all and this is exactly the type of sustainable venture that the Young Inventors prize was set up to recognise."
The idea for Recycleye began when Victor visited a recycling facility as part of his degree. He was surprised at the level of manual labour involved, making sorting waste prohibitively expensive and limiting the volume of recycled material. He suspected that a type of artificial intelligence called computer vision could improve the process and turned to his friend Peter Hedley to partner on the project.
The pair began developing their system in Peter's parents' garage using a camera, a treadmill and a pile of dumpster-dived trash. After successfully training their initial computer vision system, they founded Recycleye, in 2019. They have since raised millions in funding and have so far deployed 17 vision systems and five robot arms, with more in the pipeline.
Victor and Peter see their work as a key step in creating a sustainable economy. "Applying computer vision and new technologies like robotics means that we can start accelerating the automation of the waste industry," says Victor. "And ultimately that means accelerating our economy's transition to a circular economy to the point where our removal chains can be merged back into our supply chains."
Thank you so much to the EPO for recognising the work of Peter and Victor and the whole Recycleye team who have helped to deliver our success so far, and that which is yet to come.