You may know that Recycleye Robotics are ground-breaking AI-powered waste robots. And you may know that as with any industrial equipment, the robots need some regular maintenance, a few spare parts and some occasional attention.
You might not know that since the start of 2021, we've calculated that our installed base of robots has so far picked c.30 million objects, weighing an estimated 1.2 million kg. The robots are designed to work 24/7 for up to 8 years, so although that sounds like a lot of rubbish, (and it is!) the robots can handle it.
Recycleye Robotics were designed specifically to pick DMR and to operate in the sometimes-challenging conditions of a MRF. They operate with minimal regular maintenance from your on-site engineers, backed up the Recycleye Customer Support team.
So, who are the team at Recycleye working hard to help your robot work smoothly, pick waste and lower your QC costs? Let's learn more about the Recycleye Customer Support team, led by Raphaëlle Kassidonis.
Experts to hand when you need them.
After the installation of your robot, our Project Management team will make sure your staff are trained to operate and maintain your robot with on-site training in their native language (We speak English, French, German, Spanish, Italian and Romanian). And to help with day to day running, we've created a series of simple customer guides and videos to walk you through routine maintenance and troubleshooting. You can find them on our new customer portal, Recycleye Support, or just ask and we'll be happy to share them.
After commissioning, the Customer Support team is responsible for responding to any issues you might have with your robot. That means support with anything from your day-to-day maintenance, ordering spare parts, and any other question you may have. You can raise a request in Recycleye Support, or simply contact the team via WhatsApp.
Meet the Recycleye Customer Support team.
Mihai Rotaru joined Recycleye in 2022, with Raphaëlle Kassidonis a more recent addition.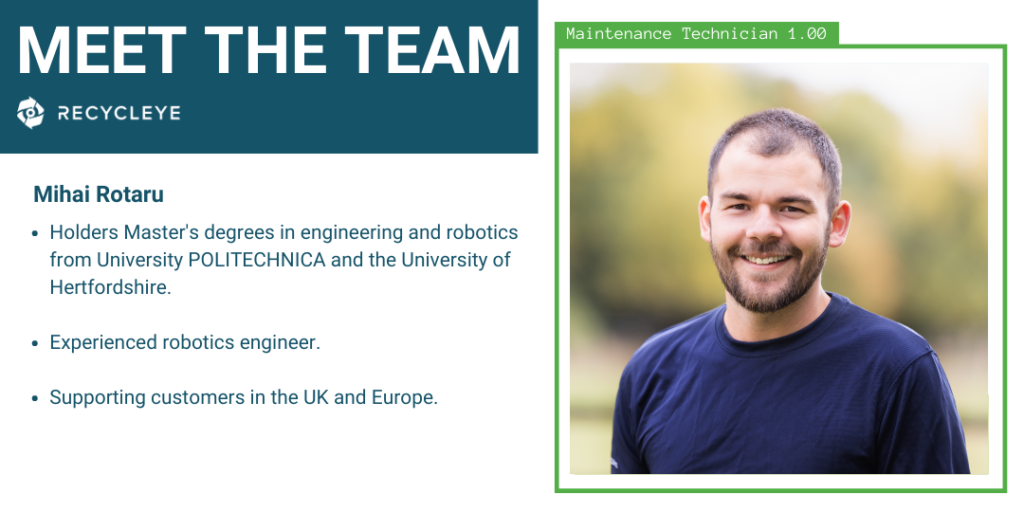 As Maintenance Technician, Mihai responds to customer service calls across the UK and in Europe, working with other members of the 12-strong Recycleye Hardware team of electrical, mechanical and mechatronics engineers as needed. Mihai is graduate of the University POLITEHNICA in Bucharest and holds an MSc in AI with Robotics. He worked in robotics engineering before joining Recycleye.
Raphaëlle Kassidonis is Customer Support Manager and joined Recycleye from Sia Partners, where she spent over 5 years as Supervising Senior Consultant working in the Energy and Utilities sectors.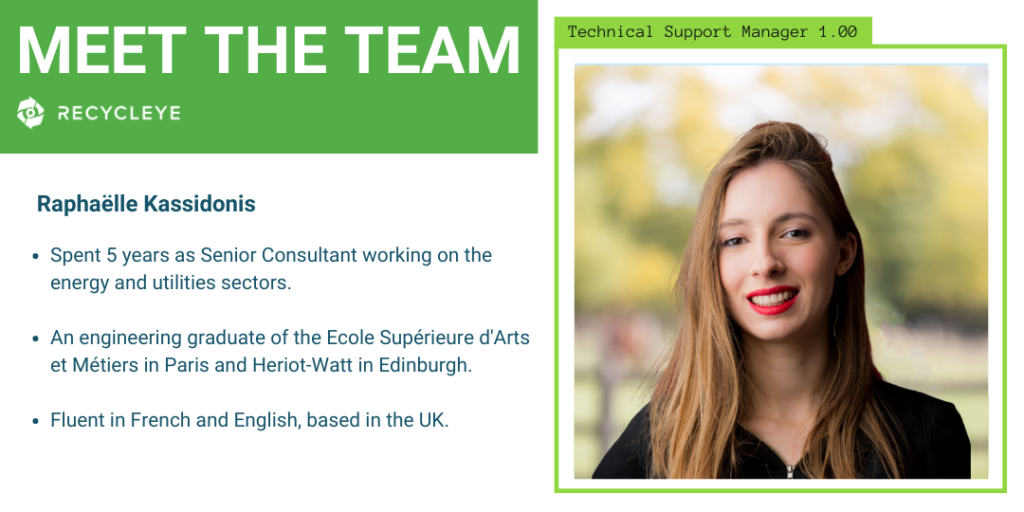 An engineering graduate of the Ecole Supérieure d'Arts et Métiers in Paris, and holder of an MSc in Energy from Heriot-Watt University, Raphaëlle is fluent in French and English and leads our customer support function, with her base in the UK.
"It's great to help customers see the value the robot can bring to their operations" explains Raphaëlle, "Some people need a little time to feel confident about operating it, but after training and with our support, you can see them grow in confidence, and I find that very satisfying."
We're standing by to keep your robot moving.
So, if you need some help with your Recycleye Robotics, our Recycleye Support portal is a simple way to raise a service request, order spare parts or access our range of operational guides and videos.
It's available 24 hours a day, and if you can't find what you're looking for, you can raise a request with our Customer Support team, who are available Monday to Friday 09.00 – 17.30 (UK time) via WhatsApp and via [email protected].
We're happy to help, and we're here to keep your robots picking and adding value to your business.