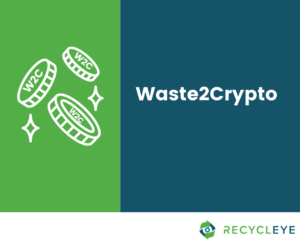 Recycleye announces today, 1st April, that the company is launching a new coin, based on the revolutionary Solana blockchain.
The minting of the coin, named Waste2Crypto, will directly equate to the amount of successful picks of waste objects completed by Recycleye Robotics, the AI-driven waste sorting robotic solution invented by Recycleye. We will use Waste2Crypto to directly fund the sorting of materials for recycling – each coin equates to a "pick" done by the robot.
So backing Waste2Crypto means investing directly to save the planet by stopping waste going to landfill.
A scaleable crypto currency that supports recycling, not landfill
CTO Peter Hedley comment "Our mission is to turn the world's waste into resource and this is another way to work towards that. We chose the Solana blockchain due to its scalability – important because as we put more robots into production, we are sorting more trash and minting new coins. The Solana chain, at 400ms block time really offers the ability to scale with the growing amount of recyclable waste we are helping our customers to save from landfill.
It is also a more environmentally friendly chain – one Solana transaction has less environmental impact than a Google search, which is fully in line with our brand values as a sustainable business"
The Waste2Crypto coins will be re-invested through the Recycleye network to directly fund the deployment of new robots into the waste industry and to give businesses or individuals a direct way to help recycling efforts.
The aim is to make Waste2Crypto a certified EU coin to align with ESG investments and the circular economy.
The economics of Waste2Crypto
A new coin will be minted for each robot pick – hence initial inflation of the coin will be high at 50% (perhaps similar to the current inflation of a 99p ice cream or a Freddo in the developed EU).
However as the number of coins grow, inflation will begin to flatten as new supply is minted on each new item of trash picked versus the total supply; which is all trash saved from landfill to date.
Olaf Lispro, CFO at Recycleye said "We believe this is an excellent opportunity to invest in the future of our planet and help solve one of the most pressing issues it faces – managing waste. I believe you'd be a fool to miss out on this opportunity."
CEO Victor Dewulf comment "Our work is helping to reinvent the economics of recycling and this is another way we are helping to bring the latest tech to the waste management sector. The general public want to back sustainability and improve recycling rates, and this is an opportunity to make a difference and invest directly in the recycling infrastructure of the future – a decentralised, transparent network of Waste2Crypto."
Interested to know more? We'd love to hear from you. Email us at: [email protected]
Happy April Fools' Day everyone!