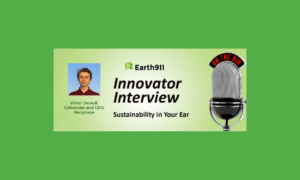 Earth 911 is the podcast aimed at helping businesses and consumers to reduce their environmental impact. The team at Earth 911 believe that humans can successfully reduce their impact by using less, reusing and recycling more, and constantly making small improvements through their daily decisions at home, while shopping, at work, and at play.
So we were delighted to participate in an Innovator Interview, in which our CEO Victor explains how Recycleye Robotics and Recycleye Vision are helping to automate waste sorting and change the ROI of recycling.
Victor talks about how our technology is being used to sort recyclables in material recovery facilities (MRFs) in ways that have not been possible before – such as increasing the granularity of sorting with the identification of food and non-food grades of plastic, enabling them to be sold at higher prices.
Listen to the podcast here and visit Earth911 at Earth911.com for more ideas on living sustainably at home and at work.