"Use time wisely" was MRW's recommendation to waste management companies in reference to the 18 months preceding EPR's debut in April 2024. The regulation's implementation has been delayed an extra year, so how can MRF managers practically prepare for this seismic shift in responsibility?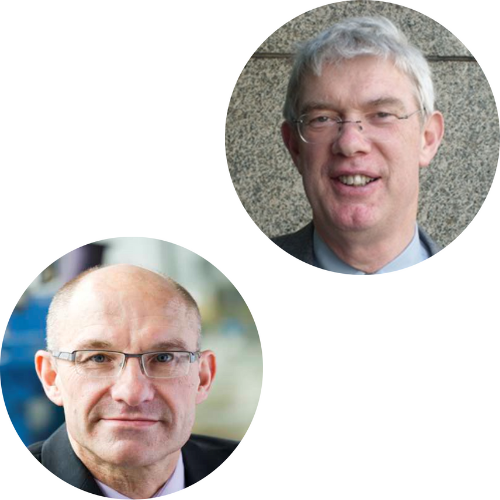 Recycleye's expert board members, Jeff Cooper, former president of ISWA + CIWM, and Chris Cheeseman, Professor of Materials Resource Engineering at Imperial College, weigh in.
1. EPR needs consistent collections
Existing commentary surrounding EPR has, naturally, almost exclusively covered the role of collections and producers, so a call for consistency in collections will not come as a surprise. However, when we sat down with Jeff Cooper to discuss the upcoming regulations, he emphasised the urgency of establishing a more "uniform national system" of at-home sorting across regions.
"I've been worried that money has not gone into doing proper 'marketing' of collection systems because funds have not been available to local authorities."

admits Cooper, referencing Brighton and Hove, which only accepts bottles within the plastics bin.
For a successful EPR scheme, accurate classification is vital, so it is imperative that there is sufficient, locally managed resource available to educate consumers on sorting instructions. Ensuring local authorities nationally have sustainable structures in place is a necessary step because, as Cooper later explained, local authorities will be classified in terms of their efficiency. 
2. Implement advanced sorting technology
Whilst EPR's impact seems to have been detached from the role of sorting facilities, Cooper confidently asserts that comparable European systems have succeeded when one process in the removal chain supports another.  For example, MRFs can practically prepare by equipping their sorting processes with technology that enables their local authority to be classified as 'efficient'. 
"We need to ensure that we have good systems in place for separation, particularly now of plastic polymer types in sorting plants," says Jeff. Referencing the "very good" sorting rates achieved by plants in Flanders (Belgium) recently, he commends innovation: "this is the kind of thing we want: more sophisticated sorting technology, like that of Recycleye Robotics, to enable more of the fractions to be produced for regranulation and reused back to a product. For plastics, that is what will ensure we achieve the ambition of having everything recycled that is capable of further use by 2025."  
Automating sorting technologies support alignment with EPR because AI-powered robotics sort to higher purities, meaning output bales are more valuable.  
As Chris Cheeseman, Waste Management academic at Imperial College, explains: "Closed loop systems work when there's material value. Car manufacturers like Renault pay a lot for their resources, so they are keen to take back their end-of-life cars." Using intelligent technologies to sort to granularities such as food-grade plastic commodifies waste packaging, encouraging producers to leverage a closed loop economy of resource.  
In addition, MRF managers also know that EPR's arrival will bring an increase in sampling requirements from 60 kg per 125 tonnes to 60 kg per 75 tonnes, subsequently increasing costs in the quality assurance cabin. With continuing MRF labour headaches, the ability of AI to decrease costs and increase speed and accuracy deems automation the ideal solution for expanding quality assurance and achieving 'efficient' local authority status. 
3. Prepare for complex reporting
"The policing is going to be extremely difficult": Jeff Cooper speaks for the industry, and perhaps the government body who resolved to delay this beast of a compliance challenge by a further year, in his comments regarding EPR reporting.  
 Currently there seems to be no expectation for the waste-sorting process to provide compliance reporting to producers. However, Jeff affirms the insightful benefits of identifying and recording items flowing through sorting facilities and cites the Norwegian EPR system, which is strengthened through with barcode identification.  It found that only 40% of Red Bull's cans were travelling through the proper removal system. Informed by this data, the producer could act to discourage producers from disposing of them in local household collections or landfill, resulting in an increase of their packaging in the proper disposal system from 40% to 70%. 
 Jeff is convinced that defined structures that accelerate regions up the 'efficiency scale' will be fundamental to the scheme's success.
"In Flanders, Belgium, it's very impressive that every 6 months, a proper audit of the recyclables collections for individual authorities is undertaken. This checks that the incoming materials align with the specifications of the EPR scheme operating. For me, that's the kind of thing we need from sorting plants here in the UK."   
4. Request a diverse scheme administration body
A notable takeaway from the most recent EPR consultation and response was the appointment of a scheme administration body in 2023. This group seems to be primarily producer-dominated, which seems appropriate given that the producers will ultimately fund it.  
Jeff Cooper advises it should include "very skilled legal and financial people who can do proper audits", even if the group is larger than anticipated. Perhaps not only a diversity of professions would strengthen this administration, but also diversity of industry, with representatives from collection, sorting, and reprocessing stages of the removal chain.   
Given the second government consultation received 1,241 responses, it is explicit that both varying passionate views and a lack of clarity have defined this scheme's inception to date. Therefore, a diverse and knowledgeable group of industry representatives presenting informed opinions on the scheme's refinement could prove a unifying and fruitful solution. 
At Recycleye, we're working with experts across waste management to apply our knowledge and expertise in the AI-driven identification and robotic sorting of waste to meet the increasing demands of policy. If you'd like to know more about how your organisation could benefit from working with us whilst navigating an EPR world, just get in touch.